At the Vineyard
At long last, planting is complete, in both the Willamette Valley and in the Rocks!
The last acre of vines at the estate vineyard in Sheridan, Albariño, is in the ground! We're incredibly excited about this fruit—other Albariños in the valley are an outstanding representation of this traditional Spanish grape. In total, the 2022/2023 plantings included Chenin Blanc, Pinot noir (more Pommard), Syrah, Viognier, Cabernet Franc, and Albariño. All totaled, we're at 26 acres planted with one additional acre planned in the Fall—Pinot noir Clone 114.
In Milton-Freewater (the Rocks District), the five-acre vineyard is fully planted. Syrah, Grenache and Mourvèdre are all actively waking up from dormancy.
While we wait for our vines to produce, we've sourced some incredible fruit for the 2023 vintage from the Rocks District: Syrah, Cabernet Franc and Albariño (to name a few!).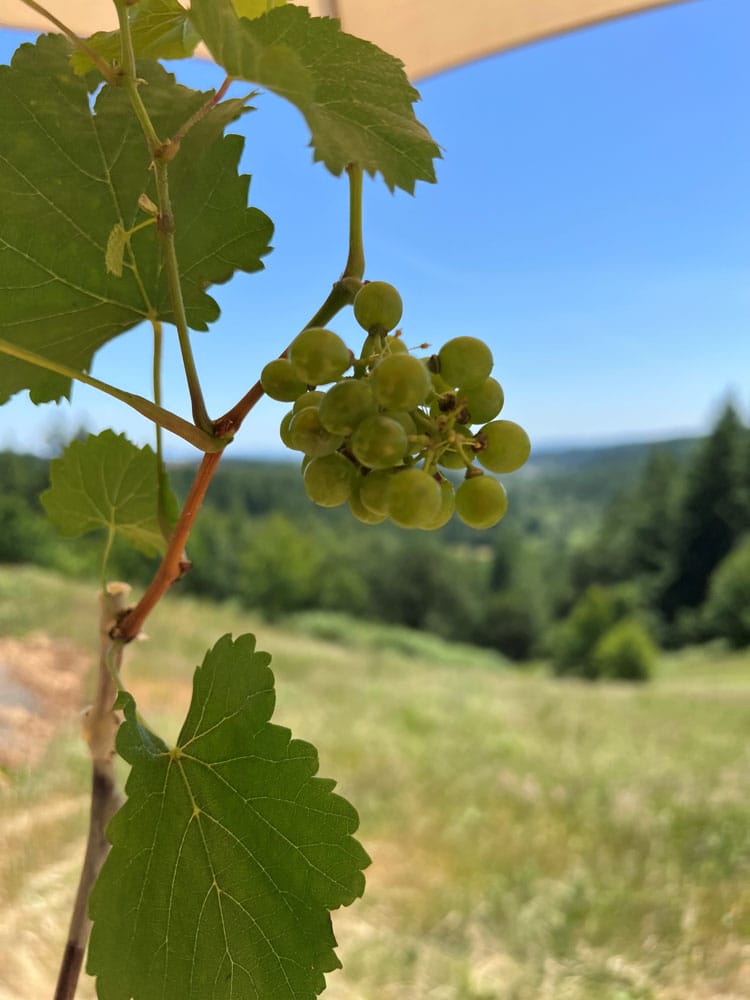 ---
In the Winery
The 2022 vintage is showing incredible promise. I find myself frequently barrel tasting the Syrah—I think I'm being a little impatient for bottling! We also did our first round of blending trials for our 2022 Chardonnays. The current plan is to bottle the Eola-Amity Hills AVA Chardonnays under three labels: a Chablis-style Clone 76 wine, a Clone 95 and similar to 2021, an Eola-Springs Vineyard Clone 15. The 2021 is receiving rave reviews from those visiting us in the tasting room.
Separate from the 2022 vintage, the new winery location in McMinnville is almost ready, and we should be operating there later this month. Equipment and barrels are arriving non-stop.
Lastly, we welcome Kenny McMahon to the winemaking team. Kenny is an accomplished winemaker with a particular passion and skill in sparkling wines. We'll dive into more about Kenny and his background in the next newsletter, but I would be remiss if I didn't bring him and the topic of sparkling wine in this newsletter because it was just last week that our inaugural Eola-Amity Hills sparking wine continued its journey and made it through tirage. The countdown continues to February 2024 when it'll be ready for prime time!
---
In the Tasting Room(s)
WE – ARE – OPEN!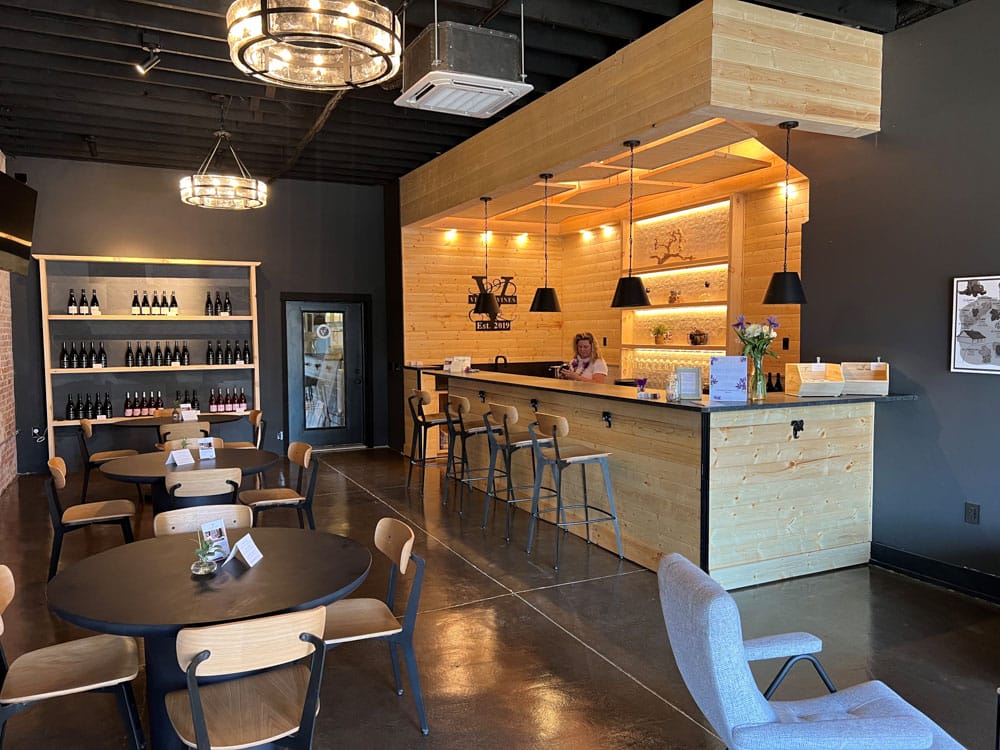 Our new tasting room opened on May 20th in Carlton, Oregon. Separately, we welcomed our first guests to the Tasting Outlook Experience at the estate vineyard in Sheridan last week.
It's been great serving guests at both locations, and the feedback has been incredible. Those that visited Carlton in the past noted the incredible building transformation. Particularly fun was our participation in Carlton Ladies' Night, where we welcomed more than 30 guests. If you're following us on Instagram, you may have seen some four-legged guests as well, all of whom were a hit!
The month of June also marks the first time we plan to welcome an outside winery to the wine tasting flight. We will have a rotating list of guest wines that have influenced the Violet Vines journey. This month, we will be featuring Denison Cellars' 2018 Chardonnay, a Chablis-style wine that represents everything great about Oregon Chardonnay. Denison Cellars is our winemaker Tim Wilson's label and we are thrilled to showcase it in Carlton.
---
In the Press
April and I decided to participate in the Raise a Glass Foundation wine competition and auction last month, with all proceeds supporting a variety of charities. This year's event directly supported Rotary's Camp Haccamo and Sunshine Campus (summer residence camps for children with disabilities) and InterVol, a humanitarian group that recovers unused medical supplies and hospital equipment and ships them to countries in urgent need of assistance.
During the competition, we were happy to earn a Gold Medal for our 2022 Johnson Ridge Rose of Pinot Noir!
---
The Wine Club
As a reminder, we have an amazing wine club with exclusive experiences and access to limited release wines! Curate your own experience with several different club types. Club shipments arrive three times a year (fall, winter, and spring). Check out the details online and customize your options by clicking the link below.