A Uniquely Oregon
Wine Experience
From the Coast Range that frames the Willamette Valley in the west to the dry rocky desert terroir to the East, Oregon offers a unique opportunity to produce wine grapes with flavor profiles like no other region.
Violet Vines is dedicated to sharing the terroir with you in their distinct Oregon wine portfolio.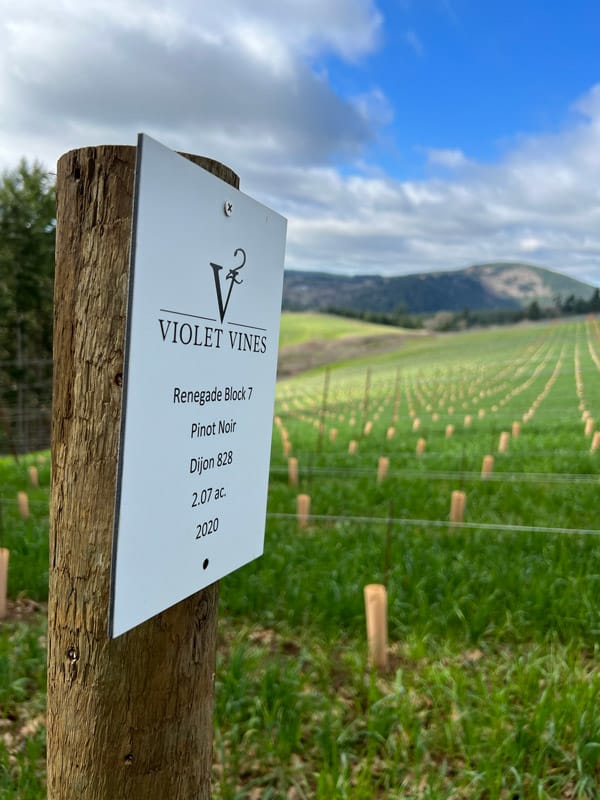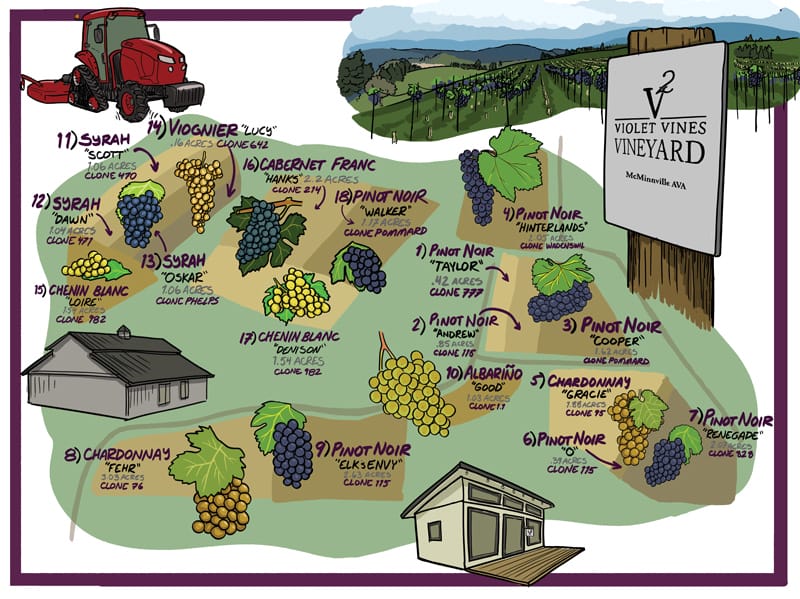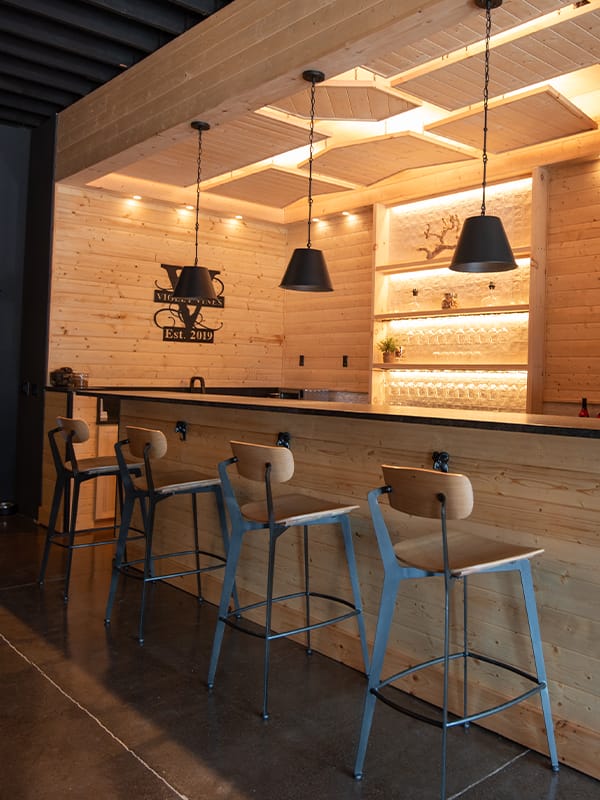 Completely renovated, stop in for a flight, glass or bottle in our modern and inviting tasting room on Main Street in quaint Carlton, Oregon. To keep a fresh and changing wine experience, we showcase a rotating schedule of other select local wines from Vintners that have been special and meaningful to us throughout our wine journey.
Here we offer a curated tasting flight of our exquisite Oregon wines.
To accompany your wine-tasting experience, we offer a limited food menu based on availability including:
Artisanal Cheese Board
House-Made Fudge Board
Red Sangria Non-Alcoholic Wellness Cocktail
Pellegrino Sparkling Water
Hours:
Wednesday: By Appointment Only
Thursday: By Appointment Only
Friday: 12 pm - 6 pm
Saturday: 12 pm - 6 pm
Sunday: 12 pm - 5 pm
Closed December 24
Closed December 31
Enjoy a curated selection of Violet Vines Wines in a tasting flight for $30. One tasting fee is waived with a three-bottle purchase or upon joining any of the Violet Vines Wine Clubs.
The Tasting Outlook Vineyard Experience
Private guided tour of the vineyard, stopping at vineyard areas of interest for a special pour. Tasting flight will continue at our indoor/outdoor tasting outlook which is nestled between two of our vineyard blocks overlooking the Willamette Valley and the Cascade mountains. This private, elevated tasting experience is available seasonally May – September. Email date/time requests for a reservation to tasting@violetvines.com. $100 per person (minimum two participants), waived with a $500 purchase or by joining the Violet Vines Wine Club.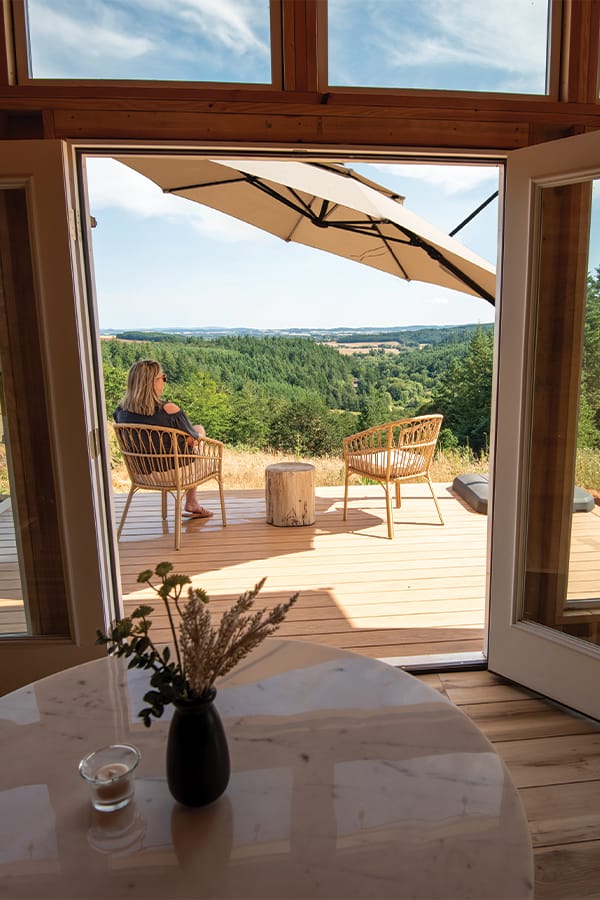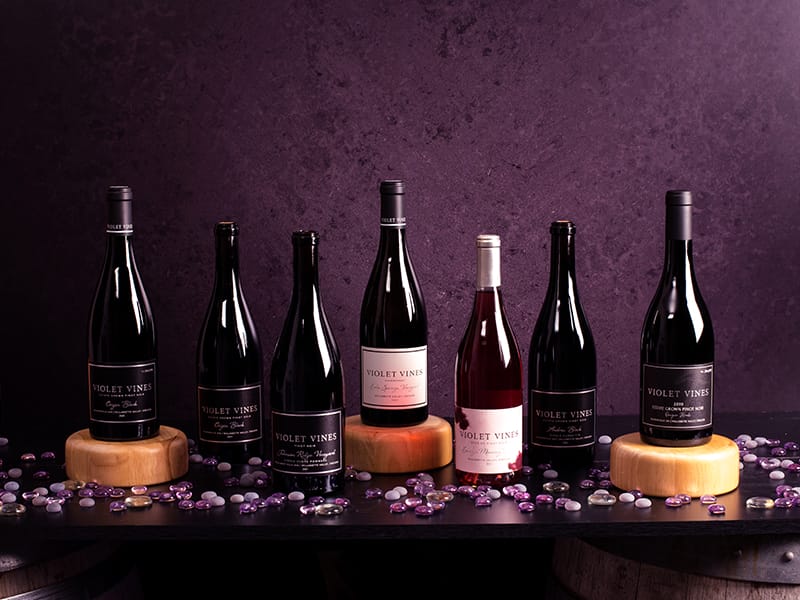 Enjoy the very best of Oregon wines year-round, exclusive events and experiences, and discounts by joining the 4-Bottle or 6-Bottle Violet Vines Wine Club.
Visits to the Tasting Outlook at the estate vineyard and access to the Violet Vines Ultra Violet Reserve wines are just two benefits available to our club members.
Get News & Updates from Violet Vines in Your Inbox